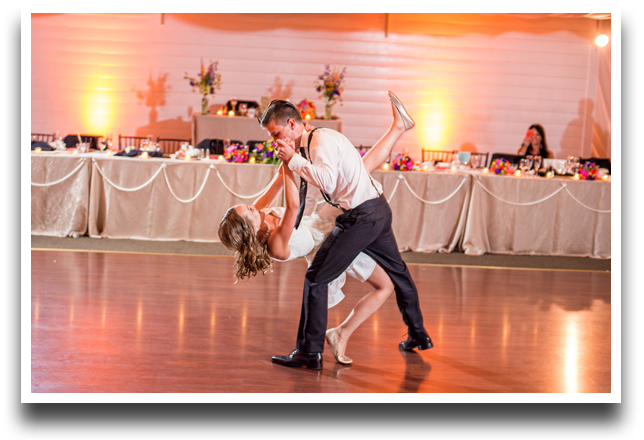 Testimonials
Nicolette and Tyler:
People are still talking about my wedding months later due to the incredible work by Mark and Sterling productions!!! Hands down the lighting, music, custom playlists, dry ice, and mark of course, made my wedding the best day of my life! Do yourself a favor and do not hesitate to book them. I promise you will not regret it!

<
Nicolette + Tyler - Temecula, CA from Love Story Films on Vimeo.
---
Jessica and Travis:
I'll start by saying the amazing spectacle Mark and his team at Sterling Productions provide is breath taking! Our friends and family have not stopped talking about the beautiful display of audio and visuals! The proper DJ etiquette, timing and entertainment Sterling Productions provided was the best I had ever seen. My wife and I are forever appreciative to meet such a friendly, knowledgeable and accommodating company. The years of experience created a seamless experience for our big day.
Cheers to the absolutely amazing equipment and fantastic delivery Mark!

Jessica and Travis - Oak Mountain Winery - Le Reve Films.
---
Taylor and Rick:
I have nothing but good things to say about Sterling Productions. I used them as a DJ and lighting vendor for my wedding on April 2, 2016. I worked directly with Mark, who was punctual, friendly, helpful, and extremely professional.
At first I planned an all outdoor wedding and he gave me estimates for that option. Just 3 months or so prior to the event, I decided to move just my reception indoors, and got all new estimates for a completely different event, essentially. He was patient with me throughout this whole process and was extremely helpful and supportive. On top of that, he is just a very pleasant guy. He was the DJ at my wedding, and his music choices were spot on. He played a good variety of music to please different age groups in the crowd. He seemed like he scanned the audience to see who wasn't dancing, and then played something that those people would get up and dance to. My dad's speech also centered around this one particular song, and Mark had the wherewithal to play that song as my dad left the stage; the transition was so seamless, everyone thought it was planned, which it wasn't. I got many compliments about my DJ from my guests.
In addition to his great work as a DJ, Mark did excellent uplighting, pinspot lighting, drapery, and more. I would recommend him to anyone. Very pleased with my experience.

Taylor and Rick - Wiens Family Cellars - Ashley Nicole Video on Vimeo.
---
Jackie and Phil:
Mark and his crew were absolutely fantastic to work with! Professional, well organized, sensitive to our needs, and he made sure everyone had an amazing evening. Not being from the area we started asking around for various vendors to use at our wedding, Mark's name/company kept coming up on everyone's list as a top notch DJ. We were able to meet with Mark in person while on a planning vacation to sort wedding details and we knew right away that he was the guy for the job! Perfect fit for us and our guests being that my now husband was from England!
Mark's online planning tool was easy to use and an excellent source of suggestions. We tried not to be too specific detailing EVERY song that we'd want played at our reception but he got it spot on! He even accommodated our special requests with our reception and added one of his own :) Everyone had to travel from either England, Canada or within the US to attend our wedding and everyone raved about our celebration,... how beautiful and FUN it was..they all admit that it ranks as one of the best weddings they've ever been to and some guests have been to a lot of weddings!
We ABSOLUTELY recommend Mark to any bride out there looking for an amazing DJ!

Jackie & Phil - South Coast Winery - Temecula from Black Tie Productions on Vimeo.
---
Brooke and Jon:
My husband and I had an AMAZING experience with Mark Davies the owner of Sterling DJ. He met with us early on in the planning phase and took us through services and packages, helped to decide what the best for our needs would be. He was very fair and honest about pricing. We had no concerns what so ever after meeting with him. His client login was very easy to use to manage our songs for the big day. We did very little to guide Mark in the right direction. We gave him enough to show him what we wanted and he came through like a true professional. The music was fabulous, the transitions were amazing and his overall service as master of ceremonies was wonderful. Our guests literally danced until the very end of our wedding. We would ABSOLUTELY recommend Mark to friends and family. Thank you for making our planning less stressful and our wedding a hit!

Brooke + Jon • Wedding Film from AkrosMedia on Vimeo.
---
Renee and Ben:
Our wedding was at Mount Palomar in Temecula and the venue had a list of preferred vendors. Top of their list for DJs was Sterling Productions. So I gave Mark a call and immediately had a good feeling about his company. He informed me that he would send his top DJ Miles Pelky out for our event. He connected us with Miles and after our first meeting, we immediately chose them. There was no reason to look any further.
Miles and Mark have both done thousands of weddings and know EXACTLY what they are doing. In our meeting Miles assured us that he would play the kind of music we like and keep certain overused wedding songs (Chicken Dance) on our "do not play list." We were also able to fill out in advance a very specific reception event sheet that included all the special songs, i.e. first dance, mother/son, father/daughter, as well as requesting all our favorite dance tracks to make sure those weren't missed. He also made us confident in his abilities to gauge a party. Specifically saying that if he notices some of the older generation aren't up on their feet, he'll throw in a little Bob Seger to get them up and moving or maybe a little Sinatra to get the parents out on the dance floor for a slow dance.
On our actual wedding day, he delivered 100% on what was promised. Miles kept the pace of our wedding moving along, but didn't make it seem rushed. He played a perfect balance of oldies with hip hop and danceable indie rock, while throwing in the perfect slow song at just the right moment when you need to take a breather from dancing too much. We got an added bonus on our wedding day as well, the venue has noise ordinances and all music shuts down at 10pm, unless you're at a venue with a super awesome Barrel Room where you can continue the party, and that is what we did! In the Barrel Room we had Mark set up as our second DJ of the night and that's when the party was turned up even more.

Renee and Ben from Jeff Drongowski on Vimeo.
---
Danielle and Andrew:
Mark, at Sterling Productions, was beyond wonderful. We planned our wedding from Virginia and were confident from our first meeting with Mark that everything would go smoothly. His knowledge, attention to detail, and passion for music were evident. We opted to have a friend (also from VA) perform live music and Mark was more than helpful making sure everything was setup properly and our friend had all the sound equipment he needed (he even brought a stool).
My husband and I have a wide range of music interests and we were so pleased at the thoughtful way that Mark was able to transition from one genre to the next. He had everyone on the dance floor all night (and even got grandma out there like he promised). He was very well attuned to reading the crowd and he'd quickly transition songs if one seemed not so popular. He was professional, outgoing, and discreet at the same time. I was glad that he approached my husband and I to give us the heads up before certain events (cake cutting, bouquet toss, etc). I would HIGHLY recommend Sterling Productions to everyone. We could not be more pleased with their services!

Danielle & Andrew from Michael Kroh on Vimeo.
---
Sue and Eva
Wow! so where do we begin? - Sterling Productions were absolutely amazing in every way!! Bar far the best DJ service we have ever experienced and we have seen it all over the years. We had planned a very stylish & decadent wedding with a Great Gatsby theme and had invited a select group of close friends and family to experience something over the top and uniquely us. The DJ followed our timeline perfectly and emceed the event with class and sophistication flawlessly. The music was perfect and not too loud; our guests are still raving about what a great time they had.
We also incorporated an extensive lighting package through them to capture the right ambiance we were looking for, and needless to say, it was more than impressive. Our dreams came true that night on our special day and largely thanks to Sterling and their team. Very dedicate to the bride, always returned emails and calls very promptly and gave us more than we asked for. Dance floor was packed all night - Superb Service!! - Thanks Sterling Productions!!!

---
Breann and Taylor
Mark Davies was the MC and DJ for our wedding in April. He understood exactly the kind of music we liked by just giving him a short list of our favorites. We had multiple compliments from our guests on how amazing the music was. The dance floor was filled the entire night. We ended up adding an extra hour to our reception last minute and Mark was happy to stay and keep the party going. We are so happy we went with Sterling Productions and would recommend Mark to anyone.

Breann & Taylor - Highlights :: Pala Mesa Resort from Mótus Films on Vimeo.
---

714 448 7921

888 446 3443

mark@sterlingdj.com