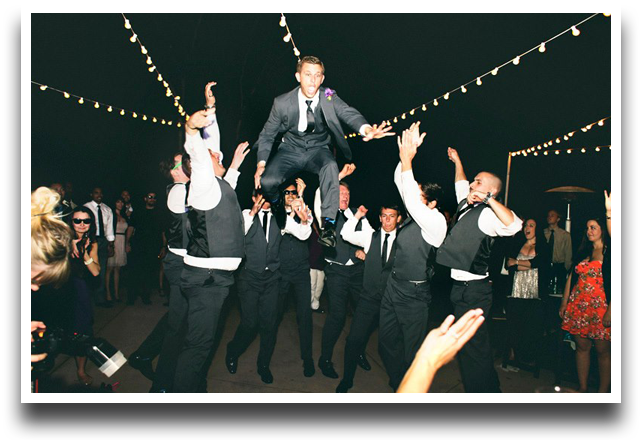 Our Professional DJ's
Mark Davies
Professional Disc Jockey & Sound Engineer
Mark currently has 25 years of professional disc jockey experience. He has performed at over 1,000 events at venues in California, Nevada and England. His ability to consistently play perfect music for any age-group and function makes him a very wise choice for clients seeking a flawless performance.
Specialties
Custom Weddings • Fashion Shows • Large Event Sound & Lighting
---
Miguel Mendoza
Miguel has 15 years of professional DJ experience as a wedding specialist and club DJ. In addition to performing at weddings and corporate functions, Miguel has been a very popular DJ in some of Hollywood's finest night clubs. Miguel won The Red Bull DJ completion in 2012 and continues to hone his skills as a cutting edge DJ and has a strong passion for keeping guests out on the dance floor.
---
DeVaughn Daniels
Professional Disc Jockey - Emcee
DeVaughn Daniels is a true professional in every sense of the word. You can count on DeVaughn to do a fantastic job for you every time. He injects style and enthusiasm in to every event. DeVaughn has been a disc jockey for most of his life - he specializes in weddings and special events. You are guaranteed to hear great music all night long, blended perfectly together for an unforgettable evening of music and dance.
Credits:
Hundreds of very happy brides, Pechanga Casino, South Coast Winery Resort & Spa, Wilson Creek Winery, Temecula International Film & Music Festivals, Metal Mulisha.
---
Armando Qintero
Professional Disc Jockey and Bilingual Master of Ceremonies
DJ Armando is fluent in English and Spanish. He has performed hundreds of weddings and is a master at public speaking. Armando's style is to emphasize on professionalism while being very loose and interactive with the crowd so the event is both fun and well managed. His experience allows him to see the event from all angles so there are no surprises yet keep the high energy party atmosphere going.
Specialties
Custom/Cultural Weddings• Fashion shows • Corporate events • Hosting outdoor events.
---
Drew Pierce
DJ Drew Pierce has been recognized as an exceptional DJ due to his commitment to professionalism, precision in skills, and ever-growing music collection. Born with a natural love for music, he began his music career by collecting records from the early age of 14. Later, he studied Music Production in College and soon after decided to use this education and passion for music to start DJing.
Over the last 18 years, He has has played in the biggest clubs from LA to Vegas as well as DJ'd corporate events for the Major League Baseball Players Association, Honda Center, Red Bull, Riviera Magazine, Intel, Lamborgini, USC, UCLA, Greek Theater, and much more.
---
DJ Jason Bee
Disc Jockey - Emcee
Jason has 20 years of professional DJ experience. From weddings, corporate functions and top night clubs, Jason has a very wide scope of DJ skills. If you're looking for a DJ that can emcee your event with class and tear up the dance floor - Jason is your guy! Jason also runs and operates a music resource site specifically for professional DJ's and has world class mixing skills to keep your guests dancing all night long.
---
Jonathan Torres
Disc Jockey - Emcee
DJ Jonathan has been DJ'ing weddings and special events for 15 years. Jonathan honed his mixing stills performing at local night clubs such as The Heat Ultra Lounge and has progressed to being a fulltime wedding DJ. Jonathan has performed at well over 1000 weddings and is ready make your special day a complete success.
---
Jacob Peter
Disc Jockey - Emcee
Jacob has been a professional DJ for over 12 years and specializes almost exclusively in weddings, which he is very passionate about. He is known for his exceptional attention to detail, professional charisma, and meticulous care in helping couples fully plan and achieve the wedding they have envisioned. With many hundreds of amazing weddings to draw experience from, he has become a master of impeccable ceremonies and unforgettable dance floors.
---
DJ Ke Moe
Disc Jockey - Emcee
Ke Moe was raised in Southern CA and is a well-rounded DJ, musician and music producer.
He has over 12 years of professional DJ experience specializing in social occasions, corporate events and nightclub sets.
Ke Moe has the ability to read the crowd and take them on a musical roller coaster of all sound genres.
His outstanding mixing skills will keep the dance floor packed all night!
---
Adam Trigg
Disc Jockey - Emcee
Adam Trigg has always had a passion for entertainment, people, and music, which quickly translated into performing well at every event. Specializing in weddings, Adam always combines the proper amount of fun, tastefulness, energy, and creativity at every event. Having performed at hundreds of events over the last 6 years, you and your guests can expect an unforgettable event.
---
Danny Aon
Professional Disc Jockey - Emcee
Danny Aon is a true open format DJ who can keep the dance floor moving and the party going all night. He has been DJing both mobile and club events for over twelve years and has been a full-time professional DJ for the past seven. He is known for being able seamlessly blend multiple genres together as well as for his turntable mixing ability and excellent emcee skills.
Danny loves all genres of music and stays up to date with all the latest tracks, and this love of music is what helps him to read and connect with all crowds; from weddings to poolside events to club nights and everything in between. When he is not busy doing mobile events, you can find him DJing his weekly residencies at many of the clubs throughout San Diego. Danny is a great listener with an amazing attention to detail and a commitment to his craft, and will help you plan out and realize your perfect wedding or event!
---
Steve Huber
Professional Disc Jockey and Musician
DJ Steve, a Juilliard graduate, has performed for many different events as a DJ & Musician.
Steve has a very wide knowledge of all styles of music and can help you in compiling a fantastic array of material for your wedding or special event.
In addition to being a DJ, Steve is also a very accomplished violinist with a talent for custom arrangements and mashups.
---